Christmas
Mary Baden recalls Christmas when she was a child in the 1920's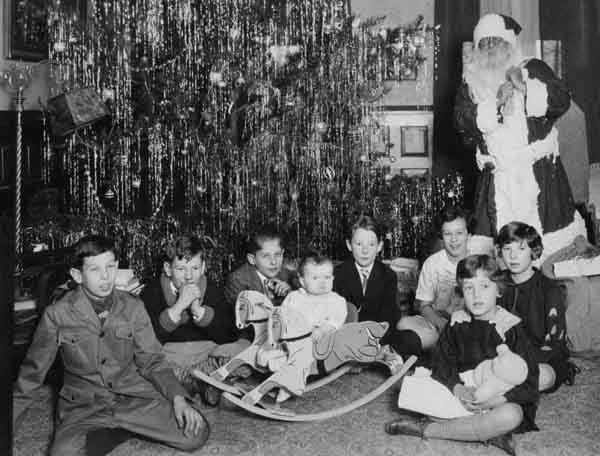 CHRISTMAS: Always a big celebration. Night before, we would hang our stockings on the fireplace and gather for reading 'Twas the Night Before Christmas. Nothing was done in the way of decorating, putting up the tree, etc., until after we were in bed. We always had a big tree reaching to the ceiling and filling almost a third of the front part of the living room/dining room. It was fenced in with a homemade picket fence (about 8-10 inches high and painted green). A white sheet was laid on the floor and other cottony-type material was all around the base of the tree to look like mountains and valleys covered with snow, with little animals and trees scattered here and there. A village was set up along the open area under the tree: little houses, peoples animals, trees, etc. A walkway made with green flakes ran through the village and led to a large manger scene in the far corner. It consisted of a homemade wooden barn (still being used) with straw, manger scene figures, people and animals inside and out, with an angel on top. The stockings on Christmas morning were always stuffed with fruit, nuts, and candy. A chair or special area of the room was set up for each person with their gifts in that space.
The big family meal would be around 2PM: turkey and all the trimmings - fruit cup or glass of cranberry juice, turkey and stuffing, mashed potatoes, sweet potatoes, creamed onions, spareribs and sauerkraut, string beans, cranberry sauce, celery and olives, hot rolls. Dessert would usually be mincemeat pie, pumpkin pie, or steamed plum pudding with hard sauce, and - often - ice cream.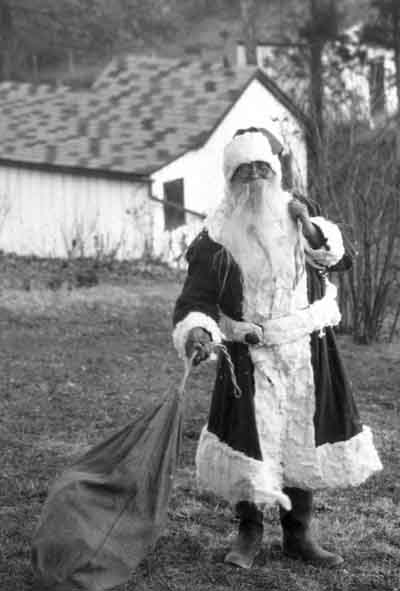 "Uncle Bert" Dubois as Santa
After dinner - about 4PM - Santa would come up the side hill by the house with a couple of big bags over his shoulders. Each of us had to perform for him - recite, sing, play the violin/piano, etc. - then he would pass out gifts to all present. Regulars were our family, Grandma and Granddad, the four Duboises (Uncle Bert was Santa), the Espeys, Aunt Sallie and Uncle Bud, "Aunts" Daisy and Alice, and quite often - the McNultys, and other friends/relatives at other times. We believed in Santa Claus until we were about 12 years old.